Three weeks ago I showed you how you can use old magazines to bring some
spring inside your house
. Today I want to show you some more ways to use recycled paper for your crafts.
Garlands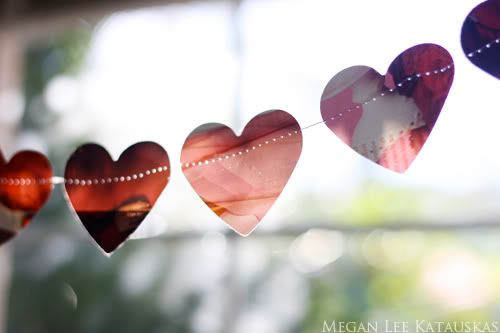 There are many ways of making paper garlands, like:
-Cut out shapes and sew them together into a garland
-Use stripes of paper to make a paper chain garland
You can find some great examples here:
-
Valentine garland
-
Christmas garland
-
Sewn recycled paper garland
-
Paper chain garland
-
Laura's garland
Jewelry
I found some great examples of jewelry made with or out of recycled paper. What do you think of this
jewelry from recycled magazines
? Or my favorite:
a bangle, decorated with a vintage map
?
Gift wrapping
I am not the person that has piles and piles of nice gift wrapping paper. Sometimes I buy some with a nice pattern, but most of the time I have none. So the gifts I give are usually wrapped in someting else. Magazines, paper bags, newspapers, plastic bags, even an old coloring book. I used it all. Maybe next time, I will even use some extra recycled paper to make a cute
bow
or
flower
to put on the
package
.
Do you want more?
What about
placemats
?
Wall art
?
Or even
yarn made from newspapers
?
Happy crafting!
Love, Inkie
Are you inspired? Please show us your creations at our
Flickr group
.